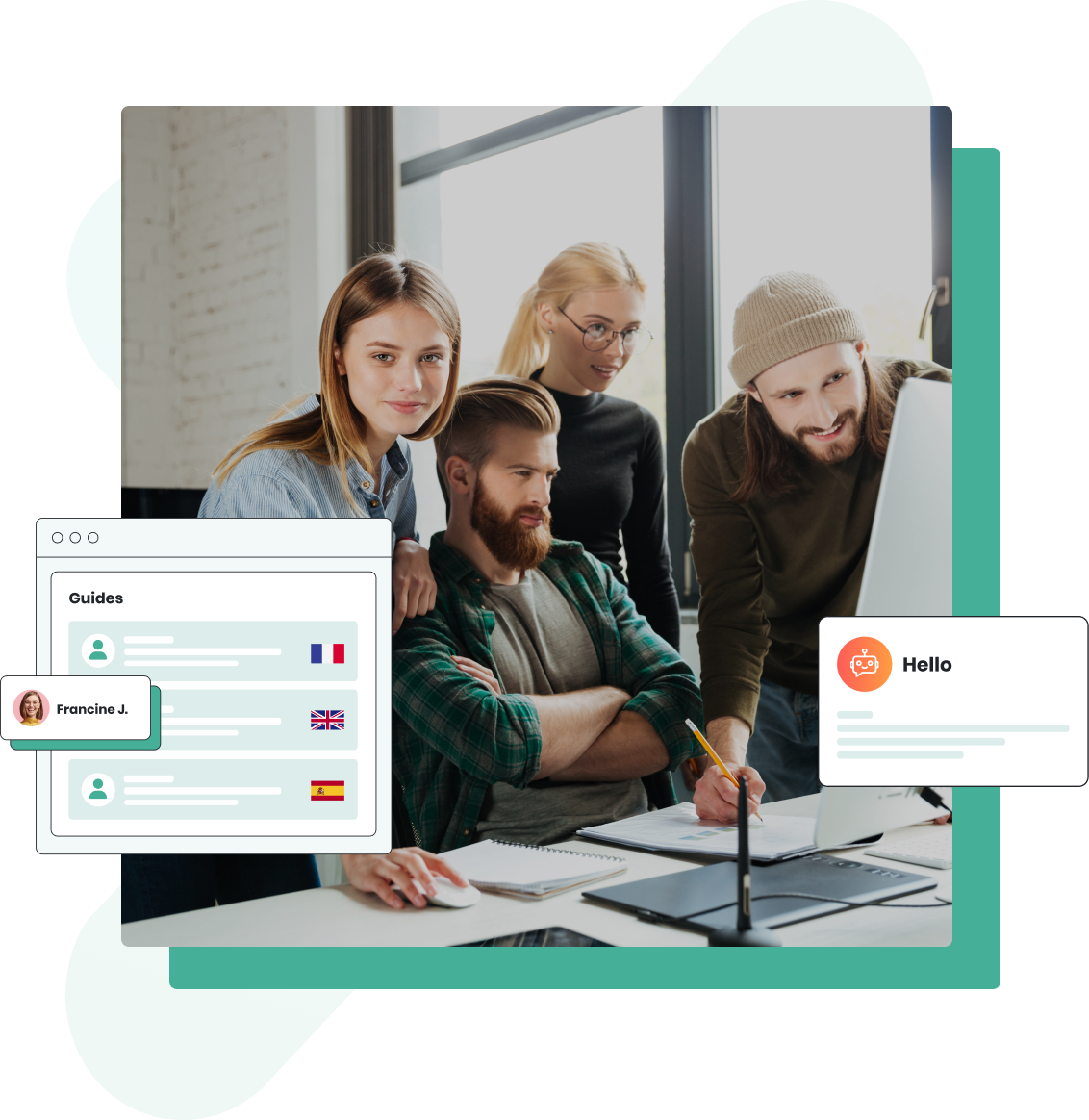 features and benefits
Omniplex Guide, the comprehensive system training platform designed to enhance user knowledge and drive productivity.
Explore the wide range of features and benefits that Omniplex Guide brings to companies and organisations alike.
Step-by-step guidance
Create engaging learning experiences by delivering step-by-step guidance on key workflows. Introduce users to interfaces, walk them through processes, and embed data accuracy with validation.
Embedded content
Support users in their workflow with embedded videos, documents, and content within Guide. Provide aids such as policies, refreshers, price lists, or supplements to support overall workflows and processes.
Pop-ups
Add informative messages or create pauses in guides with steps not anchored to specific elements on the page, allowing organisations to customise the user experience and deliver important information effectively.
Self-help widgets
Users can easily access guidance by clicking a button in their browser or within the application itself, solving common interface problems by offering on-demand support resources tailored to the page the user is on.
Multi-language support
By providing a native language experience, Omniplex Guide ensures that users feel more comfortable and engaged, enhancing the learning process.
Recommended guides
Ensure everyone is trained by recommending guides to users based on their destination page. Prompt users to launch guides when they land on specific pages, ensuring faster onboarding and increased product adoption.
Step-by-step guidance as a list
Enable users to view walkthroughs in a list format, enhance accessibility and usability for all users.
External links
Direct users outside the application by embedding links within guides. Whether it's an external site, application, or learning tool, steer users to relevant resources seamlessly.
Export to PDF
Downloadable step-by-step guides can be exported as PDF documents, enabling users to learn workflows offline.
Multimedia in steps
Enhance user understanding with images, videos, and GIFs embedded within steps. Make learning more engaging and facilitate knowledge retention.
Form validation
Set parameters for input fields to ensure validation for users accessing guidance. Require mandatory input and control pattern types, length, and values.
Rich text editing
Enrich steps with formatting options such as bold, italic, and bullet points. Highlight valuable information to guide users effectively.
Media library
Easily manage and embed media, including images, videos, and GIFs, into steps without relying on third-party hosting applications.
AI-powered media generation
Elevate your guidance with Omniplex Guide's AI-powered media generation tool. Easily add personalised images to visually guide users through complex tasks.
Step recording
Dynamically capture each step through screen recording. This innovative approach eliminates the manual step-by-step entry, simplifying guide creation and saving time.
Health check
Stay updated with the health check feature, which highlights any issues or outdated steps in guides. Proactively maintain guide performance for optimal user experience.
Themes
Customise the look and feel of guide workflows with different themes. Brand your steps per application for a consistent brand experience.
Analytics
Track user views and guide completion rates to gain insights into usage and engagement. Identify areas for improvement and enhance the effectiveness of your guidance.
User segmentation and guide grouping
Deliver customised guidance and support to different user segments. By tailoring guide content based on user characteristics, organisations can provide more relevant and effective learning experiences, increasing user engagement and adoption.
User group management
Enhanced administrative efficiency with simplified user management tasks; administrators can easily organise users into groups, update user details, and ensure that users have access to the right guides, promoting a seamless and effective user experience.
Roles and permissions
Assign distinct roles and permissions to users, granting appropriate access to publishing, dashboard, or admin rights.
Try Guide today
With Omniplex Guide, you can decentralise content creation while retaining control over publishing, maximising your company's success.
In many organisations, content creation is often centralised, limiting the input and knowledge that can be shared across the company. By widening content creation capabilities to the wider organisation, you empower employees at all levels to contribute their expertise, insights, and unique perspectives.